1914 - "Local 48 Constructs The Great Light Way"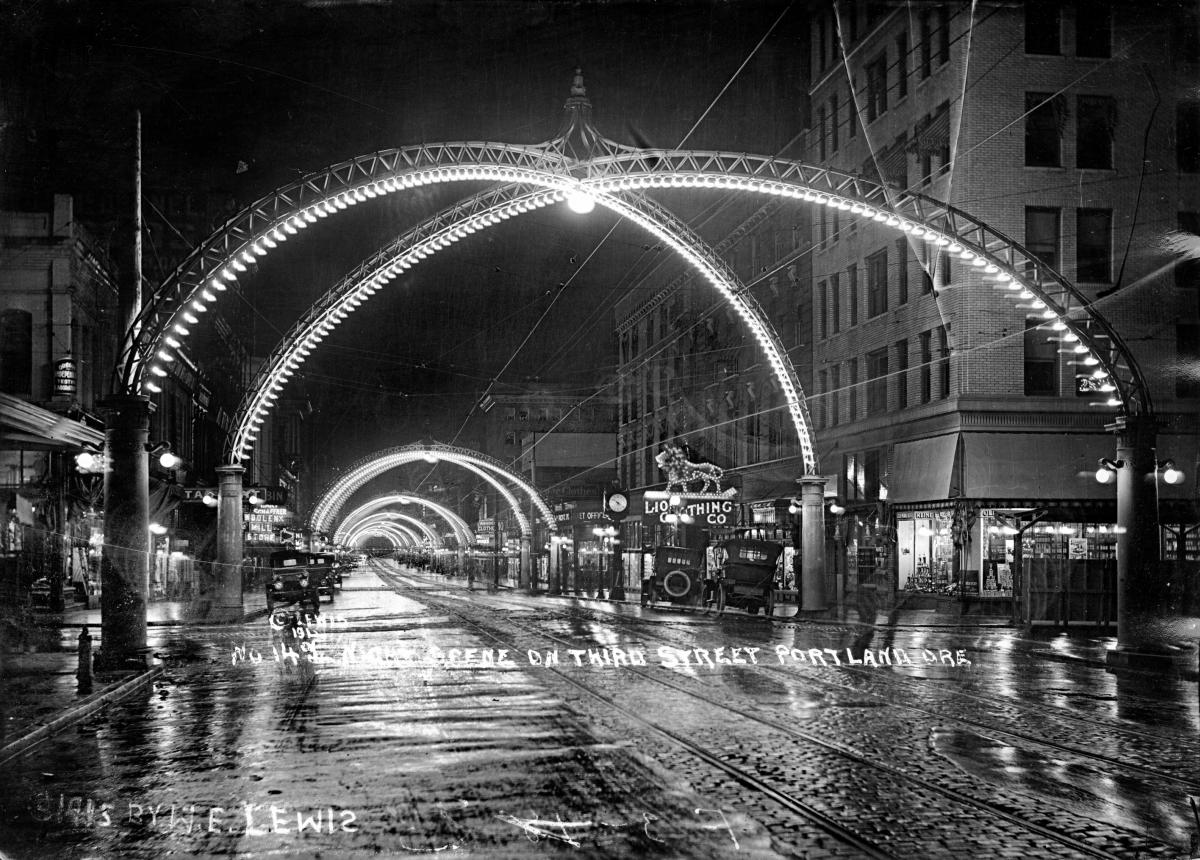 Few Portlanders had ever heard of us here at IBEW Local 48 a century ago. But that changed overnight, back in the summer of 1914. We lit up the night sky, turning 10 blocks of Third Street into "The Great Light Way."
The warm night air pulsated with the ragtime music of Campbell's American band. Thousands of excited Portlanders lined both sides of Third – from Yamhill to Burnside – in front of Lion Store and Powers, H.T. Hudson Arms Co. and W.H. Dedman's cigar shop.
Suddenly, at 8 p.m., Saturday, June 6, 1914, an employee of Northwestern Electric (predecessor of Pacific Power & Light) threw a ceremonial switch. Instantly, thousands of light bulbs blazed from double arches over every one of those 10 intersections of Third Street. "Ooooooohs!" and "Aaaaaaahs!" filled the warm night air.
The incandescent burst of light made "The Permanent Order of Third Streeters" and all the shoppers in their stores feel like this was the center of business in Portland. Third Street was even brighter than Broadway!
And who built The Great Light Way? IBEW Local 48 contractor W.A. Kraner & Co. and union electricians, Jim Irving, Ed Carlson, F. Moumine, F. Shrader, W. James, J. Hurst, Andy Peacher and W.B. Holcourt.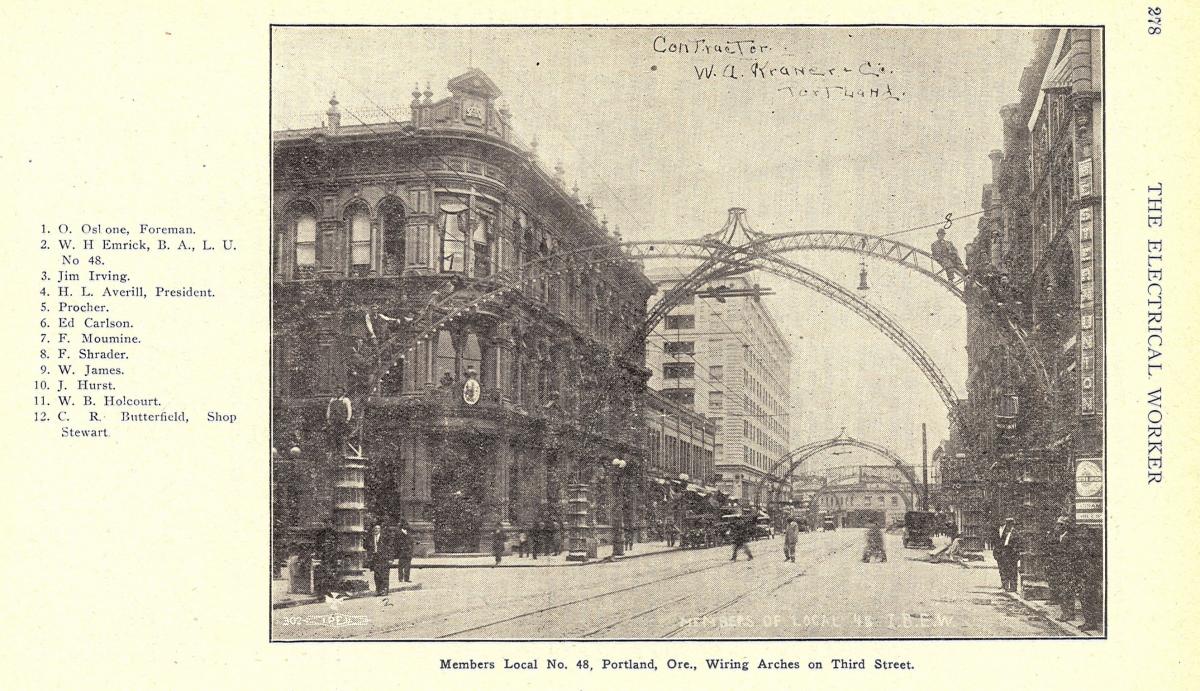 The photo, above, of the original 12-member IBEW Local 48 crew proudly perched on top of the massivearches over each intersection of Third Street, appeared on page 278, the centerfold, of the June 1914 issue ofthe IBEW's official journal, The Electrical Worker.
They used a special derrick truck to erect the double arcades. Under the supervision of Local 48 Business Agent, W.H. Emrick, President H.L. Averill, Shop Steward C.R. Butterfield, and Foreman O. Oslone, the electricians wired each pair of intersecting arches of latticed steel. The Local 48 crew anchored the arches at each street crossing in Doric columns of concrete. The crew bent pipe and ran wire to ninety-six 40-watt bulbs on each of the pairs of arches, and crowned each intersection with a blinding 750-watt nitrogen lamp. Their work on The Great Light Way would light up Portland for a quarter century.
Then the Depression hit and times started to change. In 1931, Portland City Ordinance No. 61325 re-christened the street Third Avenue. The Great Depression and Northwestern Electric's $6,700 annual light bill killed off The Great Light Way, in 1937. Demolition began soon after. In 1947, Northwestern Electric also disappeared, merged into Pacific Power.
However, we electricians of Local 48 would not only survive the Depression but, later on, prosper, working hand-in-glove in relative harmony with NECA contractors into the 21st Century!