1915: "Local 48 Revolutionizes Portland's Retail Industry"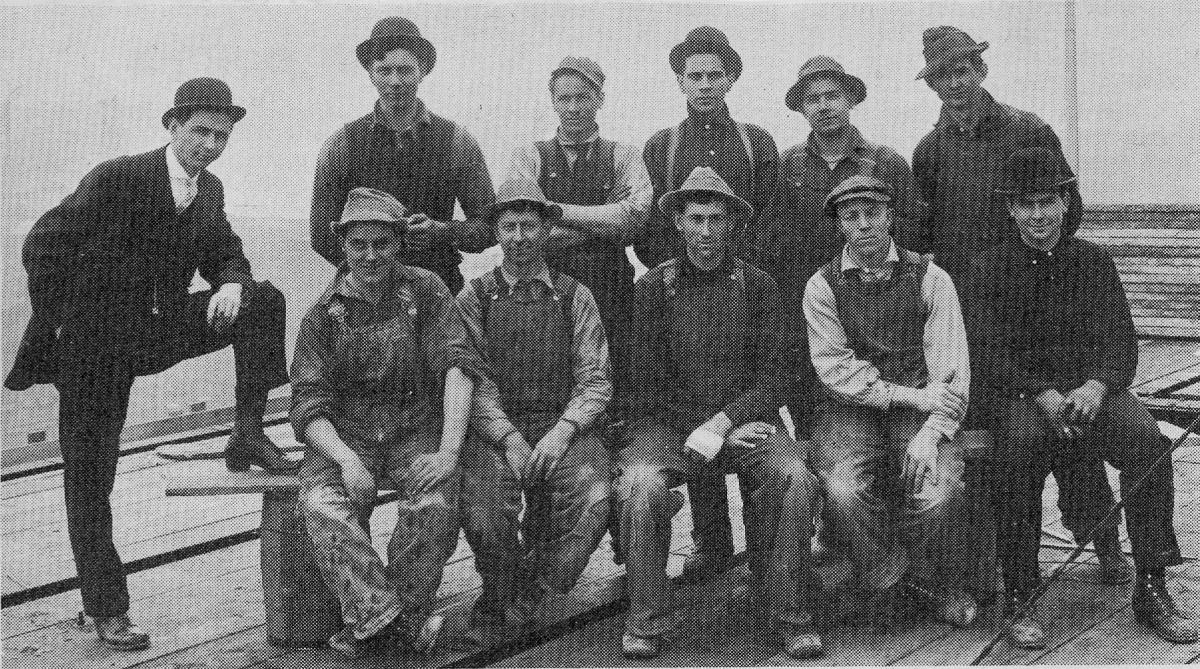 Topping out after wiring the "new" Meier & Frank department store.
Our union was only two years old when this historic photo was snapped in 1915.  The picture shows 10 members of Local 48 as they "topped out" after wiring the new 15-story Meier & Frank Department Store in downtown Portland.  They effectively revolutionized retail shopping by departments that were layered, one floor on top of another, in a skyscraper accessible by electric elevators and escalators.  Without the craftsmanship of members of IBEW Local 48, Meier & Frank shoppers would have had to hike a dozen flights of stairs to Menswear – impossible!    
The fellow standing on the back row, second from the right, was Clinton Smith.  He served several terms as Local 48's president.
The man in the bowler hat on the left in the photo above was job superintendent J.H. "Harry" Sroufe.  He would later form Jaggar-Sroufe Co. with Samuel I "Bud" Jaggar.  Jaggar had turned out as a journeyman in 1904 when he helped wire 3,000 light bulbs in the Forestry Building at the Lewis and Clark Exposition, and who, in 1907, formed what was likely the first union contractor firm in Portland, Morrison Electric Co.  
Jaggar-Sroufe made history as the first employer in our industry to reduce the workweek from 48 to 40 hours.  This was no small feat considering it was an era of labor unrest, the Wobblies, and strike-busting "Red Scare" riots with organized labor across America experiencing a rising tide of anti-unionism.  But our union brethren didn't look that worried.  Why?  Is it possible that their smiling, self-satisfied expressions portended a harmonious partnership between IBEW Local 48 and the Oregon-Columbia Chapter of NECA?  Fifty years later, Local 48 President John Clothier delivered the answer to that question.
The occasion, on November 2, 1963, was our union local's 50thanniversary celebration.  More than 720 Local 48 members and their wives attended the gala in the Sheraton Hotel.  Jaggar, who was still very much alive, applauded two of the original signers of IBEW Local 48's charter in 1913, Andy Peacher and Homer Gifford.  W.R. McCabe, president of the Oregon-Columbia Chapter of NECA lifted a glass in tribute to H.H. "Hub" Harrison who had retired several months earlier after serving as IBEW Local 48's business manager since 1948.  
It was a night to remember.  So a kid named Eddie Barnes, who 20 years later would be elected business manager of Local 48, published news of the 50th Anniversary gala in the April 1964 issue of IBEW's Electrical Workers' Journal.  In his story, Barnes quoted Local 48 President Clothier as follows:
"The gains in wages, welfare and working conditions have been reached under agreement with the National Electrical Contractors Association, Columbia Chapter, with whom we have worked in harmony as attested by the absence of a strike in the past 43 years."
"Golden Jubilee" remarks by John Clothier
Portland Sheraton Hotel, Portland, Oregon
November 2, 1963
Today, 50 years after Clothier's toast to the NECA/IBEW Local 48 partnership, and 100 years after the historic "topping out" photo at Meier & Frank, we're still working in uncommon harmony with our NECA contractors. 
The future of our union in 2015 remains as bright as the lights in the 13 floors of shopping departments in that Meier & Frank Department Store back in 1915.  Membership and training in 2015 is an unparalleled opportunity for young people seeking a trade that is as essential today as the iconic Main Floor clock, and the elevators and escalators were in Meier & Frank a century ago.