1916: "Who was "Mud" Crockwell?  (And where did he get that name?!)"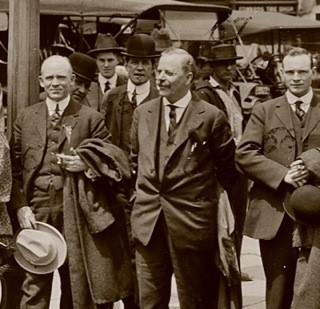 "Mud" Crockwell, center, in bowler hat. 
On June 28, 1916, "Mud" Crockwell's image was captured in the rear of a group photograph of the Oregon Association of Electrical Contractors and Dealers (predecessor of NECA) at S.W. Sixth and Pine streets in front of Stubbs Electric.  He is wearing a bowler hat and smoking a cigar.  For the past 50 years, Crockwell has been referred to as the first business manager and financial secretary of IBEW Local 48.  But was he? 
Speakers at both the 50th and the 75th anniversary celebrations of IBEW Local 48, in 1963 and 1988, referred to John Daniel Madeira "Mud" Crockwell's negotiating accomplishments as Local 48's first business manager.  Local 48's website and numerous union histories listed him that way.  His name was listed under an empty picture frame in the lobby of Local 48, alongside framed photos of most of the subsequent business managers.  Unfortunately, historical evidence suggests otherwise.
"Mud" was likely shorthand for Crockwell's middle name, Madeira, pronounced muh-dair-uh.  Crockwell was born October 17, 1878, in Salt Lake City, Utah, and moved to Portland with his mother, brother and other family at the turn of the century.  Newspapers of the day referred to him as a hard-driving organizer for IBEW Local 317, which was chartered in 1904.  His brother Frank was president of the local.
In March 1908, The Electrical Worker referred to Crockwell as financial secretary and business agent of Local No. 317.  Crockwell was cited for his initiative by Local 317's press secretary, D.B. Brooks, for organizing the "picture machine" operators. 
In September 1908, The Oregonian editorialized against Crockwell and two other union men, C.M. Rynerson and W.H. Fitzgerald, for their "impudence" in publishing a "manifesto" for the election of William Jennings Bryan for president of the United States, implying that their advocacy for a political candidate was somehow a violation of labor unionism.
Crockell was known at city hall as a union electrician with strong opinions about Portland's new building codes.  Indeed, at one time Crockwell's opinion so infuriated the Electrical Code Committee (of which he was previously a member) that they "denounced" Crockwell in a statement to the Portland City Commission for his "attacks" on a proposed code requirement that would have required bonding of all contractors and electricians. 
He was popular among the more than 100 members of Local 317 and a brother to the other trades.  He organized the big Labor Day picnic at Oaks Amusement Park.  In July 1909, The Oregonian reported Crockwell was elected to a six-month term on the Central Labor Council [Building Trades Council] as one of its reading clerks, representing Local 317 electrical workers.  He was also elected to the local ministerial association.
In 1908-1909, Portland was about as far away as a member could get from the politics of the International IBEW.  Nevertheless, reports started filtering into Local 317 that Frank J. McNulty, president of the International, and Peter W. Collins, the secretary, were engaged in a bitter, internecine fight over control of union funds with a rival faction led by J.J. Reid, president, and J.W. Murphy, secretary.  The International's fight reverberated in Portland.
Some of the members of IBEW Local 317, led by the Crockwells, sided with the Reid-Murphy, according to The Electrical Worker.  Other members of Local 317 remained loyal to McNulty-Collins, and in 1912, sought recognition from the International, which temporarily designated them as IBEW Local 480.
In 1911-1912, Samuel Gompers, president of the American Federation of Labor, sided with the McNulty-Collin faction.  The bruising contest at the International level spilled over into the workplace in Portland.  Local 317 and Local 480 members started competing against each other.  Finally, in 1912, the courts decided in favor of McNulty-Collins faction and gave them control over the union funds. 
A few months later, the Portland Building Trades Council threw members of the "Reid-Murphy" Local 317 off the council.  On May 21, 1913, fourteen electricians signed the charter for creation of IBEW Local 48.  Crockwell's name was not among them.  Competition persisted between the members of the old Local 480 and the "Reid-Murphy men" of the old Local 317, who offered to work for $0.50 per hour less than scale.  Gradually, the tone softened.  In March 1914, the new Business Agent, W.H. Emerick, announced in The Electrical Worker that the memberships of Local 480 and Local 317 were now merged into IBEW Local 48.  Andy Spice was financial secretary.
But what of Crockwell?  His name pops up many times after 1913, in public records, military draft registrations for World War I and II, and in The Oregonian, but never as business manager or even as a member of IBEW Local 48. 
In 1916, he was a member of the Multnomah County Clerk's staff.  Two years later, at the age of 39, Crockwell's World War I draft registration listed him as an electrician employed by NePage-McKinney Co.  He had many other callings the next 40 years: community organizer, advocate for retired public employees, checker for the Oregon Liquor Control Commission, advocate for the elderly and the Multnomah County "Poor Farm" in Troutdale, and a member of the South Mount Tabor Improvement Association.  But never again was he listed as the business manager, agent or financial secretary of an IBEW local.  He ran for public office several times, as a Portland City commissioner, Multnomah County Auditor and Multnomah County Commission, but never won.
Crockwell died January 17, 1960, and was buried in Lincoln Memorial Park after funeral services Friday, January 29, 1960, at A.J. Rose & Son Mortuary.