1934: "Local 48 Electrician Roams America!"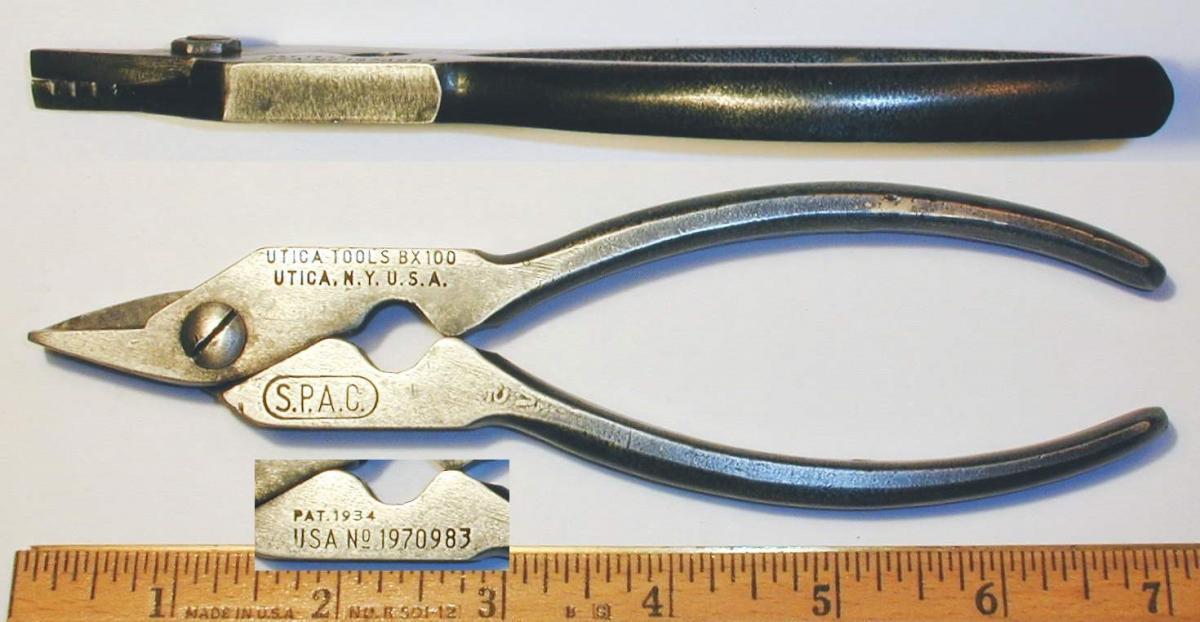 S.P.A.C. BX Armor-Cutting Pliers
This is curious.  Why in the world is a pair of Utica Tools "BX100 Armor-Cutting Pliers" on display in the foyer of the NECA/IBEW Electrical Training Center?  They're old, outdated, and frankly don't fit the image of the 21st Century inside electrician of Local 48.
But consider this: One of us invented the pliers! 
His name was Clinton E. Smith.  Back during the Great Depression of the 1930s, journeyman Smith found a use for his downtime at Milwaukie Electric Co.  He invented and then named these pliers, "S.P.A.C.".  In 1934, the U.S. Patent Office issued him Patent No. 1,970,983.  This is where the story gets interesting!
The competition was tough – Klein Tools and other toolmakers were well entrenched and much favored by electricians.  But Clinton E. Smith believed in himself and his S.P.A.C. pliers.  And if you haven't figured it out yet, S.P.A.C. stands for Smith's Pocket Armor Cutters. 
Thanks to the April 1936 issue of the IBEW's Journal of Electrical Workers, below, we can piece together his "marketing plan."  In his own words, on page 168, Smith's plan was to roam the United States, from one IBEW local to another, selling his pliers.  It was no small feat considering the country was enduring the Great Depression.  Almost a quarter of our nation's workforce was unemployed.  Who had the money to buy a pair of pliers?  That didn't stop Smith – and he left no record whether his wife Carrie thought his plan hare-brained. 
First step was to forge 1,000 pairs of pliers.  On Wednesday, April 18, 1934, Smith loaded them in his sagging Model T Ford "jalopy," blew a kiss to Carrie, waved good-bye to son Harold, and said farewell to his daughter Helen.  At the age of 48, Smith backed down the driveway of his 2513 Lake Road home in Milwaukie, Oregon, and struck out for the Cascade Range and a mighty bumpy drive through the Blue Mountains to Salt Lake City.  It was to be the trip of a lifetime. 
Smith put that Model T to the test.  He visited IBEW local unions halls all along the way, peddling pliers in Omaha, and then Chicago, and dozens of other cities.
"In many locals along the line, my (IBEW union) card surely helped me across," said Smith in the Journal article published two years after completing his road trip.  "As many of the boys read this, they will recall meeting me and I want to say everyone treated me fine.  I sold tools as I traveled."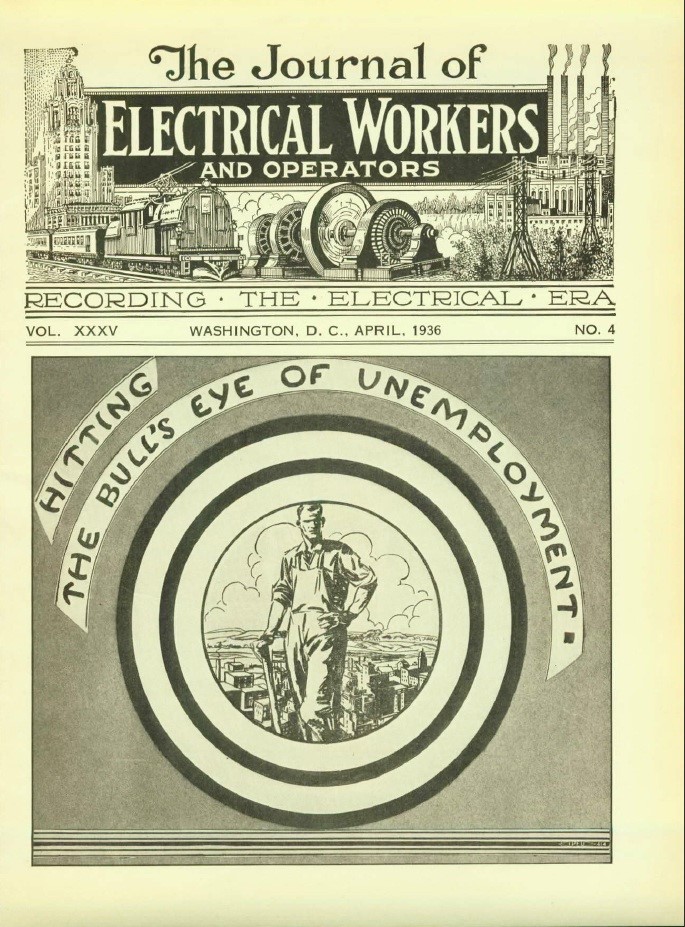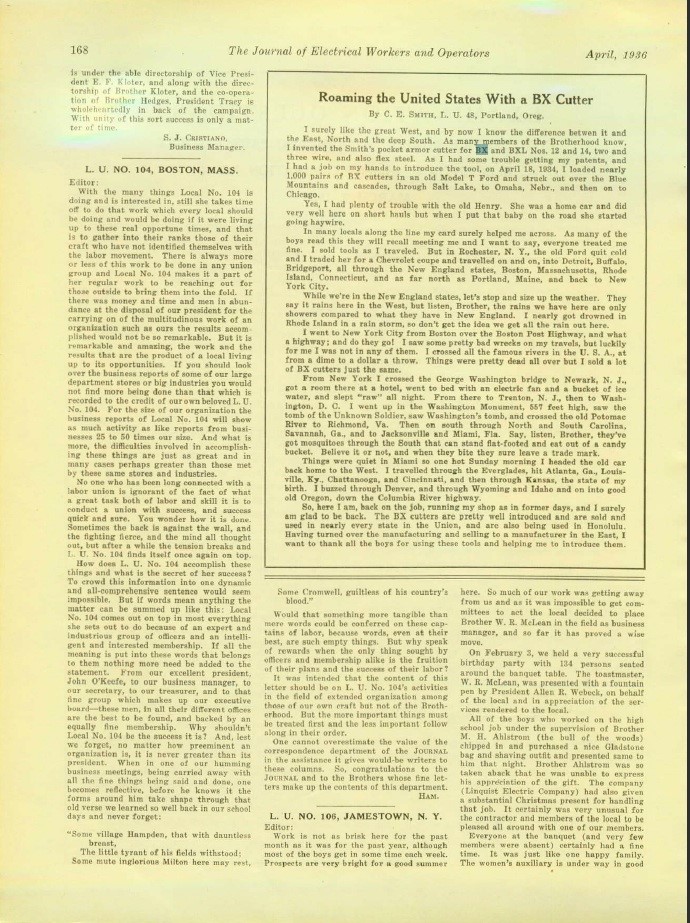 Smith saw the nation on its back.  Times were hard.  Some union electricians had trouble paying their dues.  Smith heard it all, and saw it too, yet he wrote with optimism for the future.
"Things were pretty dead all over but I sold a lot of BX cutters," said Smith. 
Roads were poor.  Smith's Model T gasped under its load of S.P.A.C. pliers for cutting BX and BXL Nos. 12 and 14, two- and three-wire, and also flex steel.
"Yes, I had plenty of trouble with the old Henry.  She was a home car and did very well here on short hauls but when I put that baby on the road she started going haywire," said Smith.  Shortly after he crossed the New York state line, the Ford quit cold in Rochester, forcing Smith to trade in for a Chevy coupe.
He drove to New England, and feared for his life on his drive from Boston to New York City on the old Post Highway.
". . . [W]hat a highway, and do they go!  I saw some pretty bad wrecks on my travels but luckily for me I was not in any of them," said Smith.
Weather was a constant threat, especially on dirt roads.
"They say it rains here in the West, but listen, Brother, the rains we have here are only showers compared to what they have in New England.  I nearly got drowned in Rhode Island . . . ."
Smith crossed the most famous rivers in America "at from a dime to a dollar a throw."
He battled heat in Newark, N.J., where he "got a room there at a hotel, went to bed with an electric fan and a bucket of ice water and slept 'raw' all night."
He climbed all 557 steps of the Washington Monument, saw the tomb of the Unknown Soldier, crossed the Potomac into Virginia, and cut his way through the Deep South for Miami.  Which is where he discovered mosquitoes.
"Say, listen, Brother, they've got mosquitoes through the South that can stand flat-footed and eat out of a candy bucket.  Believe it or not, and when they bite, they sure leave a trade mark," said Smith.
With his BX cutters pretty well introduced, Smith yearned for home.  He re-crossed America, this time through the lower Midwest including Kansas, the state of his birth, through Colorado, Wyoming and Idaho, finally down the now-historic Columbia River Highway to his home in "good old Oregon." 
Smith turned over manufacturing and sales of his S.P.A.C. product line to Utica Tool, "glad to be back" in his shop at Milwaukie Electric.  His parting words to his union electrician brethren, nationwide were, "I want to thank all the boys for using these tools and helping me to introduce them."
Smith died in Portland on October 23, 1969.  He was 84.