1942: "Female 'Firsts' in Local 48"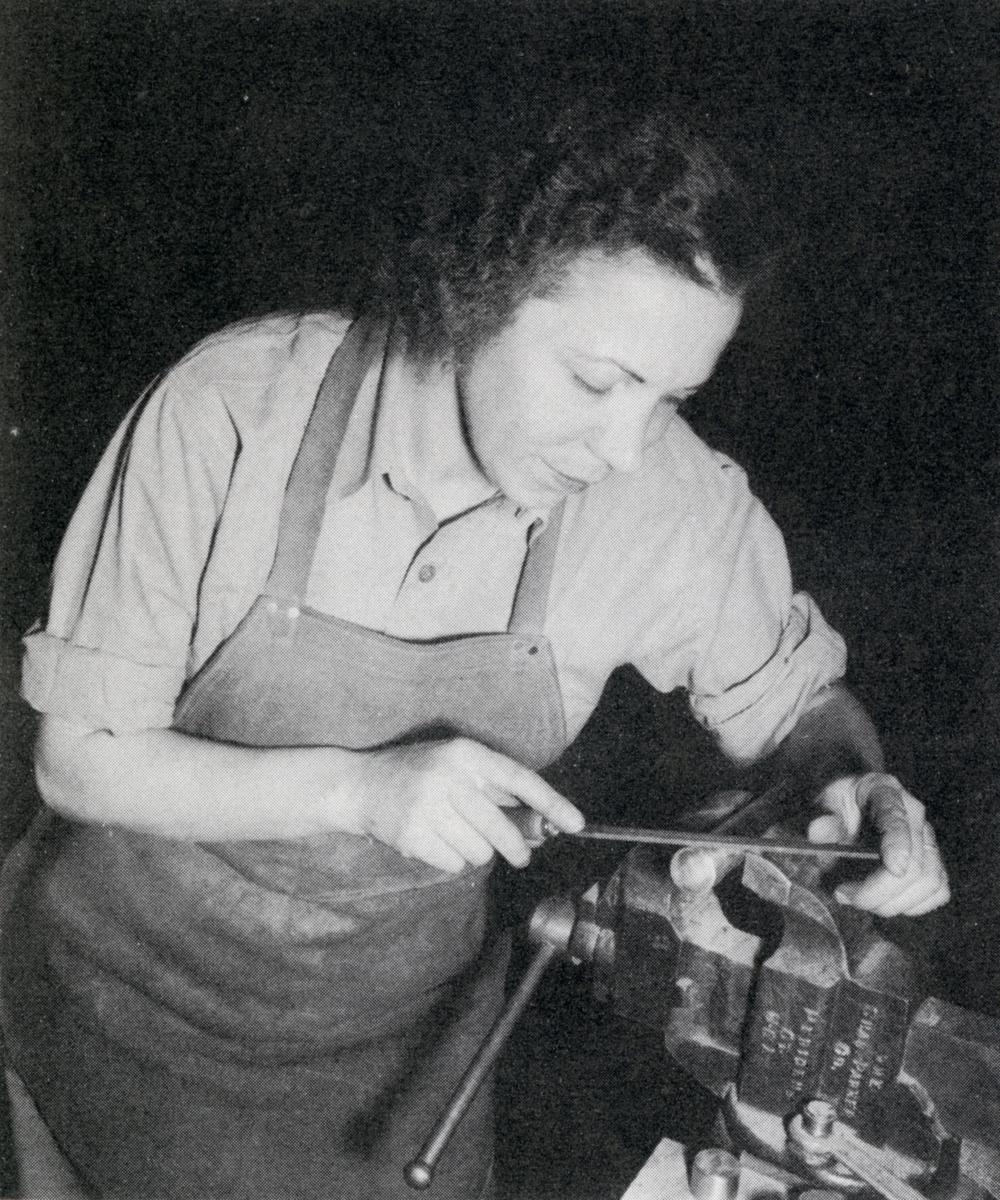 Journeyman Ann Bruce
Change is hard. No doubt. But since it was a matter of life or death for our nation, IBEW Local 48 decided to admit its first female into the union. She was Ann Bruce. She started work on her birthday, April 30, 1942. We were under attack from Imperial Japan and Nazi Germany. Admiral Chester W. Nimitz, Commander in Chief of the U.S. Pacific Fleet, appealed to his fellow Americans, "I ask your help. On behalf of all your fighting sons, brothers and husbands whom I command in the Pacific, I ask that every skilled man and woman in America who can work in a shipyard [to] volunteer immediately."
Hundreds of thousands of men and women poured into military service. That left the trades bereft of skilled craftsmen. Who would answer Admiral Nimitz's cry for help to win the war? Bruce and other women, as well as other minorities, that's who!
 Bruce's husband was an invalid. She had a six-year-old daughter. She could use the income and liked working with her hands. She needed training, and so arranged for childcare and took courses in aviation sheet metal and marine wiring. Bruce went to work at Oregon Shipbuilding Corporation, the first shipyard in the country to hire women workers. She was likely the first woman admitted to IBEW Local 48. She wouldn't be the last. She was the first woman in Oregon to receive a journeyman lectrician's card, according to the International Brotherhood.
 "I've never worked with a finer bunch of men and have never done anything in all my life that I like so well," Bruce said in "Kaiser Yards Founded on Union Cooperation," published in the November 1942 issue of the IBEW's The Journal of Electrical Workers and Operators.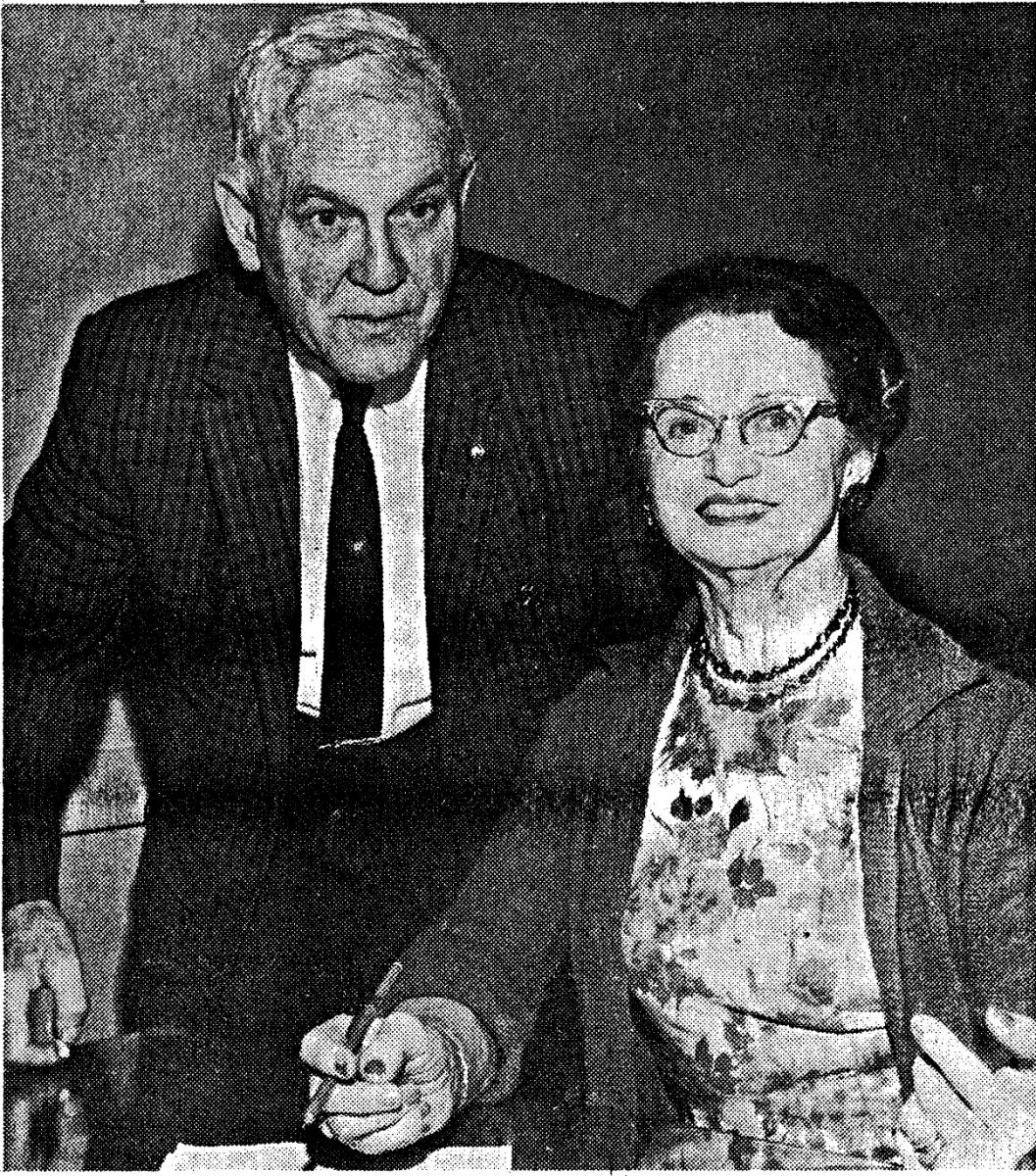 Marie Gleason in 1962
Another shipyard electrician who achieved the status of journeyman was Marie Gleason. She achieved "first in the nation" status in 1962 when Local 48 Business Manager Hub Harrison, pictured with her in the Oregon Labor Press photo to the right, signed her up for her pension. Gleason was he first female among 17,000 men to earn full benefits under IBEW's retirement plan.
Gender played no role when Local 48 hired its first manager of its newly chartered Federal Credit Union, in 1954, a female named Lois Burnside.
NECA/IBEW Local 48 created an "equal opportunity" gateway into the electrical industry in 1963, forming a Joint Apprenticeship and Training Committee (JATC).
The first female to turn out as a journeyman in the postwar era was an African American Charlene Molden. She began her apprenticeship in 1973, blazing the way into the trade for other
women to follow. Dozens of other women would likewise gain their journeyman's ticket before the end of the decade.
Keith Edwards, a trailblazer himself as the first black business manager of Local 48, recalled "Charlye" for her high-spirited grit. She endured what today might be regarded as sexual harassment but her response was to give as good as she got.
"We had a job shack, and back then the guys put Playboy pictures up on the wall. She said she had a problem with that. They said, 'Ah, too bad.' So, she went and got some Playgirl pictures and put them up on the wall. All the Playboy pictures came down," said Edwards.
Nancy Bock
Nancy Bock got involved in the Local 48 leadership, becoming the first female journeyman elected to the Executive Board where she served as recording secretary in 1986 and later as vice president in 1989. Bock ran
on a platform of prosperity for members as a way of promoting diversity and equality. 
Other women won awards as valued employees, community volunteers and recognition for their just plain hard work, many of them "first" in their role. In 1984, women JATC grads comprised 20% of the electricians hired
by McCoy Electric to renovate the historic Paramount Theater. In 1987, EC Company selected JATC graduate Sandra Carr as its "Outstanding Electrician" from among 160 employees. In 1993, JATC hired Nancy Mason to diversify programs. A year later, of the 714 applicants for JATC, 9.8% were women, 17.2%, minorities. The trend continued in 1999 with JATC's move to a new $6 million NECA/IBEW Electrical Training Center (NIETC).
In 2007, following his election as business manager, Clif Davis hired Nancy Cary as the union's first female business representative and Donna Hammond, its first black female business representative.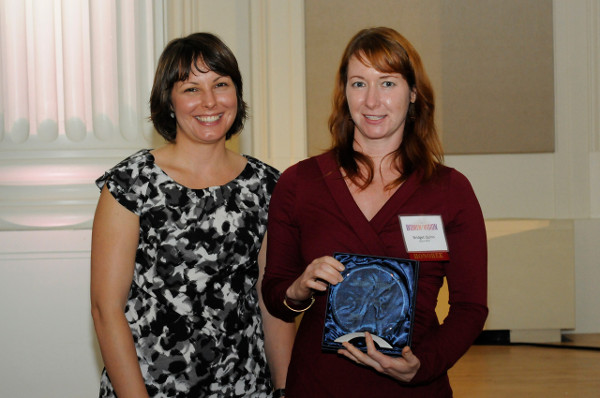 Bridget Quinn accepting "Women of Vision" award
In 2011, NIETC training director Rod Belisle recruited Bridget Quinn as the first female Workforce Development Coordinator. Belisle assigned Quinn, a Local 48 journeyman electrician with shop steward experience working for Dynalectric Oregon, to reach out to women and minorities who were curious about the trade but who had no friends or relatives in the union.
"I think the greatest barrier has been that a lot of these folks don't come from a community with a big construction background. If you don't see somebody or know somebody growing up who works in the construction field, then you don't think of it as an option. Later on down the road, they can be role models for their siblings or community," Quinn said. In the summer of 2014, Quinn won the Daily Journal of Commerce "Women of Vision Award."
Today, IBEW Local 48 is a union of brothers and sisters. We're seeing multigenerational family membership among both women and minorities. That's a sure sign of increasing, and irreversible, diversity. The tradition today includes Daniel Ramirez who followed his mother Marjorie Ramirez into the electrician's trade at Local 48. In this role, Ramirez certainly was first, as was Ann Bruce the union's first female journeyman electrician back in 1942. And like Bruce, Ramirez won't likely be the last woman to achieve such a distinction.