1974 "Local 48 and Intel Lead the Way Into the Digital Age"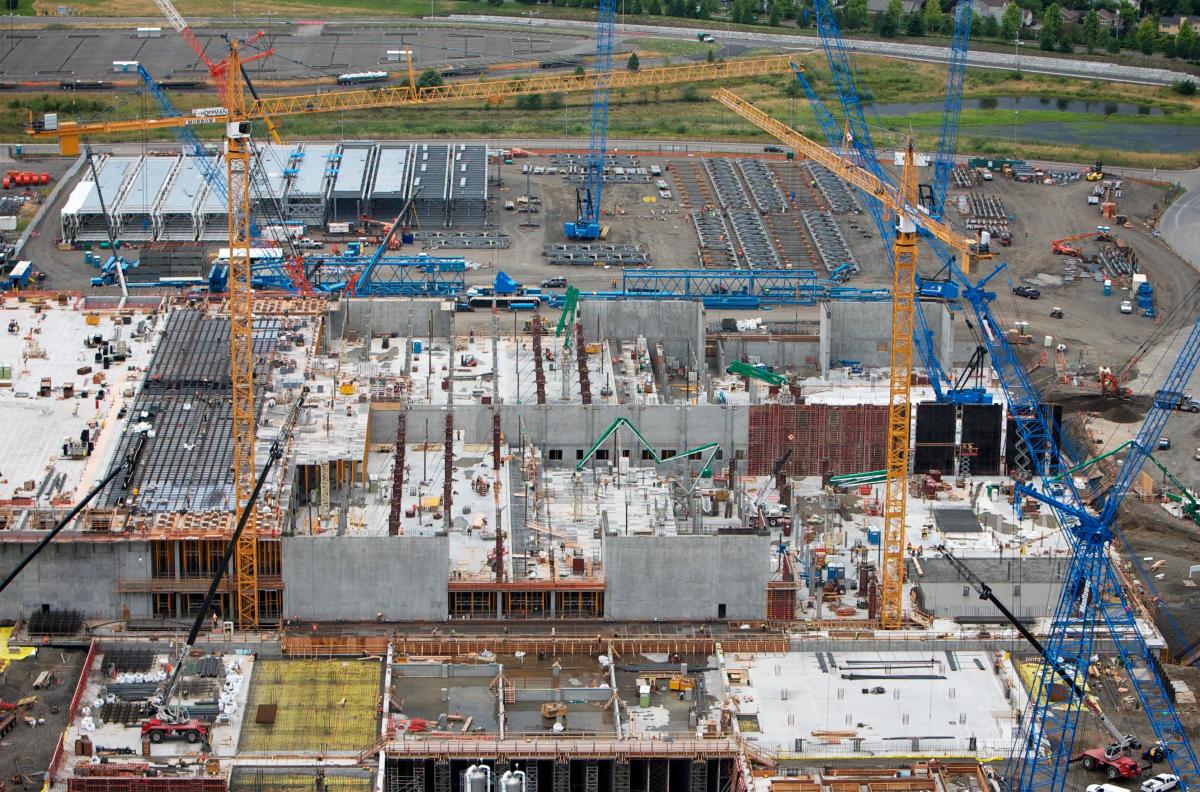 Intel's Ronler complex, shown in this aerial photo taken by Randy Rasmussen and published in The Oregonian in 2012, has since been completed, thanks to thousands of IBEW Local 48 electricians.
In 1974, Oregon was still a forest products state when a start-up called Intel announced plans to build its first computer chip fabrication plant in Oregon. 
That same year, a kid named Bob Shiprack was lucky enough to gain membership in Local 48 and learn the electrician's trade on that first of many Intel projects.  Like a lot of us at Local 48, Shiprack benefited from work on Intel and other high projects.  During Shiprack's career, and that of thousands of us in Local 48, Intel would become the single-largest employer of NECA contractors and IBEW Local 48 electricians in the history of union. 
Indeed, between 1974 and 2015, IBEW Local 48 electricians, "travelers," and dozens of NECA contractors found work on Intel projects and those of hundreds of other high technology companies that clustered around the high tech behemoth in Washington County. 
Intel alone invested $20 billion in the most technically advanced computer chip fabrication plants in the world, all of them located west of Portland on six different campuses (Ronler Acres, Jones Farm, Hawthorn Farm, Aloha, AmberGlen and Evergreen), employing today more than 17,000 people in Washington County.  
Of course, Intel wasn't the first.  There was Tektronix, homegrown in Oregon in 1948 by  Howard Vollum and Jack Murdock.  But after Intel's arrival, literally hundreds of other high technology companies launched electronics manufacturing in what has become Oregon's "Silicon Forest."  The construction created a huge ongoing demand for us at Local 48 as Oregon's economy transitioned from forest products to the Digital Age.
In 1991, Oregon began a 10-year economic boom created by the computer industry, telecommunications and the Internet.  Technology jobs increased 20%.  Timber jobs declined 20%.  Two years later, Oregon passed the Strategic Investment Program, enabling equipment property tax exemptions for manufacturers to fuel economic growth.  It did.  
In 1994, Local 48 electricians and their union contractors helped expand Intel's operations with construction of a $705 million Aloha project, the first phase that could lead to future expansion of its microprocessor design and production facilities in Hillsboro.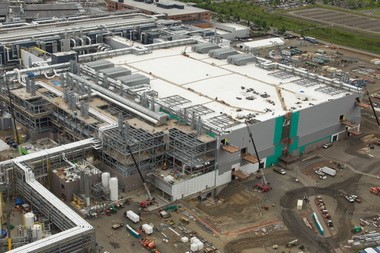 In 1996, a small army of us Local 48 electricians completed work on Intel's Fab 20 computer chip manufacturing plant near Hillsboro Stadium.  The chip factory was the first of four that Intel would build, making it the largest employer of NECA/IBEW Local 48 electricians in the region.  During the boom, Intel also built RA1, the first of a series of highly complex computer chip factories in Hillsboro. 
NECA contractors and thousands of Local 48 electricians found opportunity with Intel, but also with 1,800 other high tech firms, including Tektronix, LSI, Fujitsu, Wacker and Mitsubishi, that through 2000 invested $10 billion in plant construction.  High tech employed more than 60,000 people.  Welcome to the Silicon Forest!
In 2009, the Great Recession threw a lot of Oregonians out of work.  Oregon's unemployment rate peaked at 11.6% in June of that year.  Recovery would be stymied by weak job growth, and tepid construction and manufacturing through 2013, with one exception: Intel.  
More than 2,000 Local 48 electricians, and travelers, and their NECA contractors found work with Intel's construction of the fabrication facility, D1X, at the Ronler Acres Campus in Hillsboro on what would turn out to be the largest such project in the United States.
IBEW Local 48's future along with that of its members is inextricably tied to Intel and the family of high technology companies that make Oregon and Southwest Washington home.  There's no way to know the future.  The industry is complicated and getting more complicated – far more than pipe-and-wire. 
Today everything is "smart," including the electricians who make things happen for the high tech industry.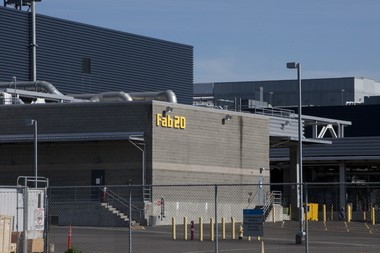 As for that kid, Shiprack, he would persevere, doing rope-work to survive the recessions of the 1980s, while advancing the cause of organized labor until his retirement, in 2010, as head of the Oregon State Building Construction  and Trades Council.