1983:  "Why Is It the 'Barnes' and 'Allison' Labor Management Cooperation Committee?"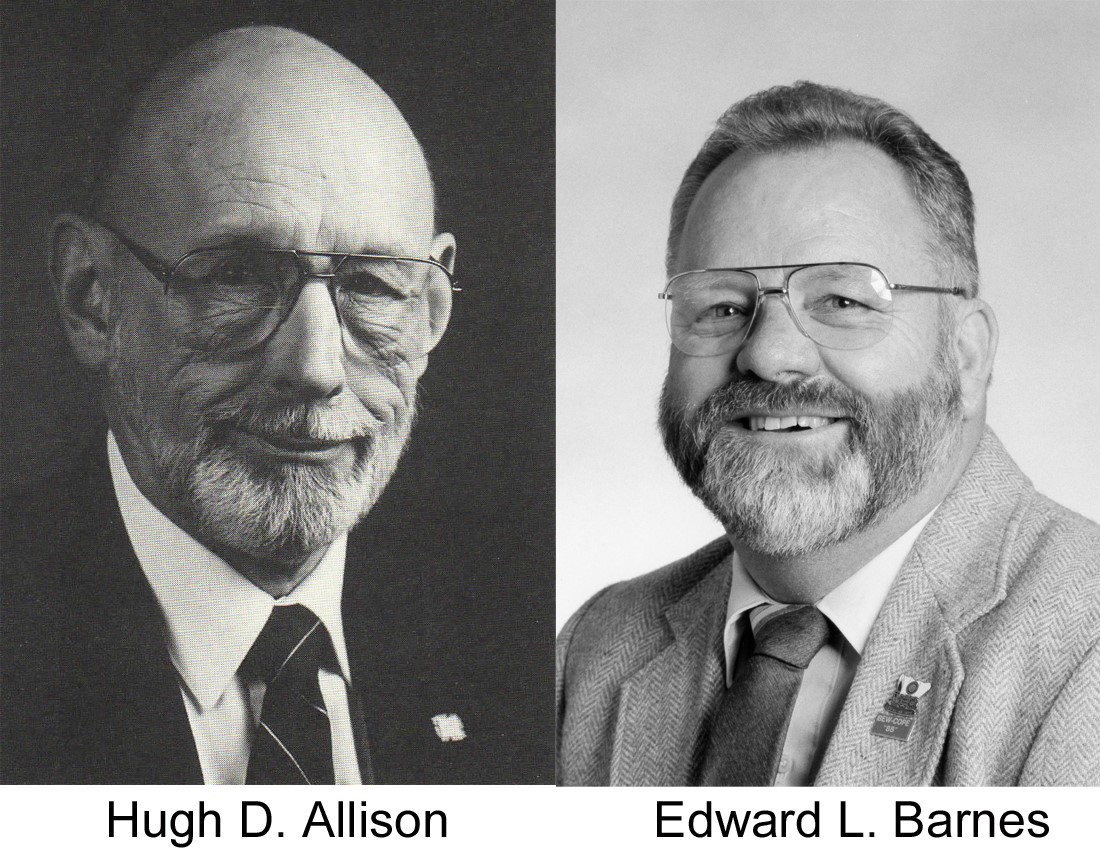 In 1983, the Oregon economy collapsed.  IBEW Local 48 struggled in the economic rubble of two back-to-back recessions.  A lot of workers lost their jobs.  More than a few families lost their houses. 
In the midst of the worst economic crisis since the Great Depression, the leadership of Local 48 reached out to NECA to launch in 1986 what today is known as the Market Advancement Program (MAP). 
To regain their market share in the midst of economic disaster, Local 48 and NECA decided to focus solely on what was best for the customer.  They formed a high profile Labor Management Cooperation Committee (LMCC).  The task of LMCC was to educate the public about the positive partnership of Labor and Management.  Today, the marketing and promotion partnership is known as the BALMCC – Barnes-Allison Labor Management Cooperation Committee.
But who were those two guys, "Barnes" and "Allison"?
The "Barnes" was Edward L. Barnes.  He apprenticed as a member of IBEW Local 48 in 1955 and became its business manager in 1983.  More about him later.
The "Allison" was Hugh D. "Buzzy" Allison.  Like Barnes, Allison started his career long ago, before most Local 48 members were born!
Allison's career began in 1945 when he joined Local 48 to work as an electrician in Portland's shipyards.  In 1953, Allison launched his own "high tech" business, Buzzy's Television Shop.  In 1959, he became an electrical contractor and stalwart member of NECA.  During the second half of the 20th Century, he served as president of Oregon Electric Construction (now Oregon Electric Group, or OEG), Allison Electric and Sunset Electric of Oregon.  He was a pivotal leader who held many positions in the Oregon-Columbia Chapter of NECA and its national body for more than a half-century, and was at the forefront of just about every union movement in the industry. 
Allison not only served as president, governor and member of the board of directors of the Oregon-Columbia Chapter of NECA, he promoted hiring of women and minorities, and continuing education of journeymen during the tumultuous civil rights era of the mid-1960s.  As the president of NECA in 1968, Allison championed the Metro JATC's education of African American men, which that year included Bonnie Lewis, Bob Neal and Michael Colbert.  That same year, Allison led NECA and IBEW Local 48 to fund the electrical wiring of the Albina Art Center serving some 800 families of color in the Albina neighborhood, which prefigured the long-term partnership with the NAACP and the Urban League of Portland.
In 1977, Allison spearheaded Metro JATC's purchase of a 15,000 square foot former Safeway grocery in northeast Portland to provide classroom space for a burgeoning number of apprentice electricians.  In 1989, Allison was named a Fellow of the Academy of Electrical Contracting, the highest honor bestowed on an individual by the electrical contracting industry.
Barnes, like Allison, was also active from the day he apprenticed in IBEW Local 48.  After serving in the Korean Conflict, Barnes went to work in 1955 as an apprentice for Donovan Electric on the construction of The Dalles Dam on the Columbia River.  By the mid-1970s, Barnes had been an active member of Local 48 for more than 20 years, inspired by his father Jennings to fill just about any leadership post that was offered by his fellow union members.  During his career, Barnes worked as foreman, trustee, executive board member, union president and a dozen other leadership roles.
During the disastrous post-recession era of 1983, Barnes' first year in office as business manager, unemployment exceeded 12 percent in Oregon.  One-third of Local 48's members were "travelers" seeking work out-of-state, in some cases as far away as the East Coast.  Rather than argue over who was to blame, Barnes called on his counterpart at NECA, Tim Gauthier, who was hired just one year earlier.  The two agreed to sit down and talk. 
With the help from Professor Orv Iverson of Clark College in Vancouver, Washington, Barnes and Gauthier formed a plan for renegotiated wages.  They conceived a new approach to health and welfare benefits, drugs and alcohol abuse.  They sought to improve programs for apprenticeship and continuing education to improve the quality of workers, including women and minorities.  They planned for a secure retirement for members.  Their work inspired members of Local 48 BALMCC.  It worked.  Members of NECA and IBEW Local 48 thrived through the 1980s and 1990s.  Barnes was re-elected, again and again, until his retirement in 1995.
That year of 1995, Metro JATC found itself running out of classroom space.  The shortage prompted the training program directed by Ken Fry to expand into Whitaker Middle School and Portland Community College's Cascade Campus. 
In 1998, independent of the Portland school system, and any other governmental agency, the training trust invested $6 million into construction of a new NECA/IBEW Electrical Training Center, adjacent to Local 48's offices just east of Portland International Airport.  Today, under Training Director Rod Belisle's leadership, the NECA/IBEW Training Center is meeting the demand for a diverse, motivated and highly educated workforce.
In addition to its role in promoting education, BALMCC also provided for a Code of Excellence that is inculcated at every level of the NECA/IBEW partnership.  The results of the market recovery program and the efforts of the BALMCC the past 30 years have been impressive:
Allison died in 2011.  Barnes remains active as a volunteer.  Both serve as examples to union contractors and members alike.
In their honor, Barnes and Allison's names were affixed to the NECA/IBEW Local 48 partnership.  The honor not only represents a tip-of-the-hat for their achievements.  It also reminds members of IBEW Local 48 and NECA of what is possible in their own careers.