IBEW LU 48 – 2023 Starlight Parade Team– Grand Floral Parade Team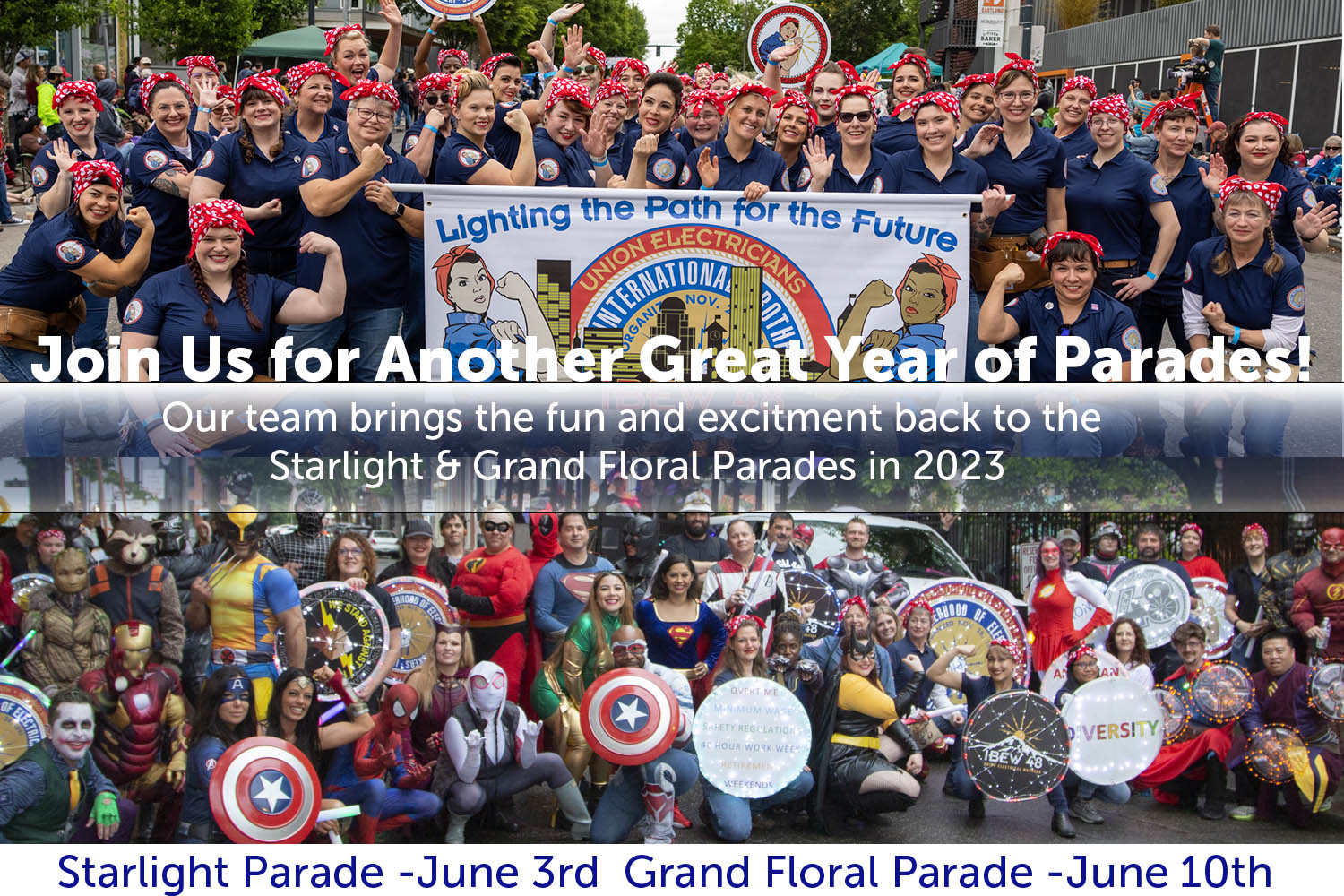 2023 IBEW Local 48 Starlight and Grand Floral Parade Teams

We will be participating in the Starlight Parade on June 3rd and the Grand Floral Parade on June 10th
The Starlight Parade will consist of a float with a live band & lighting, Team of Superheroes, Rosie Team Participants, and Members Dressed in Blue Jeans with IBEW Local 48 Shirts. No Rehearsals Required.
The Grand Floral Parade will consist of a float built and decorated with flowers by the Portland Rose Festival Foundation. WW2 Riveters from the area will be riding on the float. Every member of our team will be dressed as Rosie the Riveter, Many will be performing a simple rehearsed routine while others wave to the crowd in the middle of the formation. Members will need to show up to one or two rehearsals. Rehearsals are all at the Hall and might be available by Zoom. Sunday, May 21 at 10 am. Wednesday, May 31, 7 pm, and Tuesday, June 6, 7 pm.

Check out our Facebook Pages for images and videos from previous years' fun. 
https://www.facebook.com/IBEW48Starlight
https://www.facebook.com/Local-48-Grand-Floral-Parade-2020-1084116791791427
Limited to the first 75 Members for each Parade Event. 
*With Limited Spots please sign up committed to participate or return and remove yourself from event(s) if unable to participate to open up spots for others.  
To Participate in either or both of the events fill out the form below.