User account
Primary tabs
Important Notices to Website Registrants
There are two separate website accounts you may maintain with Local 48 depending on your desired usage. You do not need an account at one to use the other. Each website has a unique personal login. 
1) General Website Member Resources provides to our Active and Retired members access to additional content viewing that is not offered to the general public. Please note that only Local 48 members may register as a New Member on this website. If you forget your password it is not necessary to re-register. Use the Forgot User name/Password link in the Member Login module located at the top right corner of the site.
Before you get started registering, you will need to know your personal IBEW "Card No." or Member ID. This can be found on your dues receipt. (Please note: the red receipt number on the top right is a receipt number not your Card No.)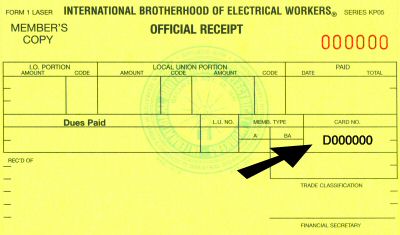 The registration process for General Website Member Resources requires applicants to fill out and submit an electronic registration form.
The address, phone, information you provide for this registration process DOES NOT change your contact records at Local 48 Member Services.
Applicants will not have access to Member Resources until their account is physically verified and activated by the registration administrator. Approval notifications are sent via email. This may take some time depending on physical resources at the time you register.
The General Website Member Resources registration form is located below on this page.
2) On-line Dispatch and Dues provides access to dispatch, dues or changing your contact information with Local 48 on-line. Links to On-line Dispatch and Dues and Login Help are located on the home page and menus of the Local 48 website. Users will be redirected to a ISAWeb Login page. New users need to click on the Login / Registration Request tab to complete an electronic registration form to receive a system generated user name and password for this service. You may change these later if you desire.
 
Please note that if you change your address and telephone information at the On-line Dispatch and Dues site, this WILL change your contact information at Local 48. This does not change your contact info at other entities such as the Credit Union, Pension and Health & Welfare administrators, etc. You may click here for a guide for other organizations you may also consider contacting if your address and telephone information changes.