Summer 2022 Annual Picnic - Volunteers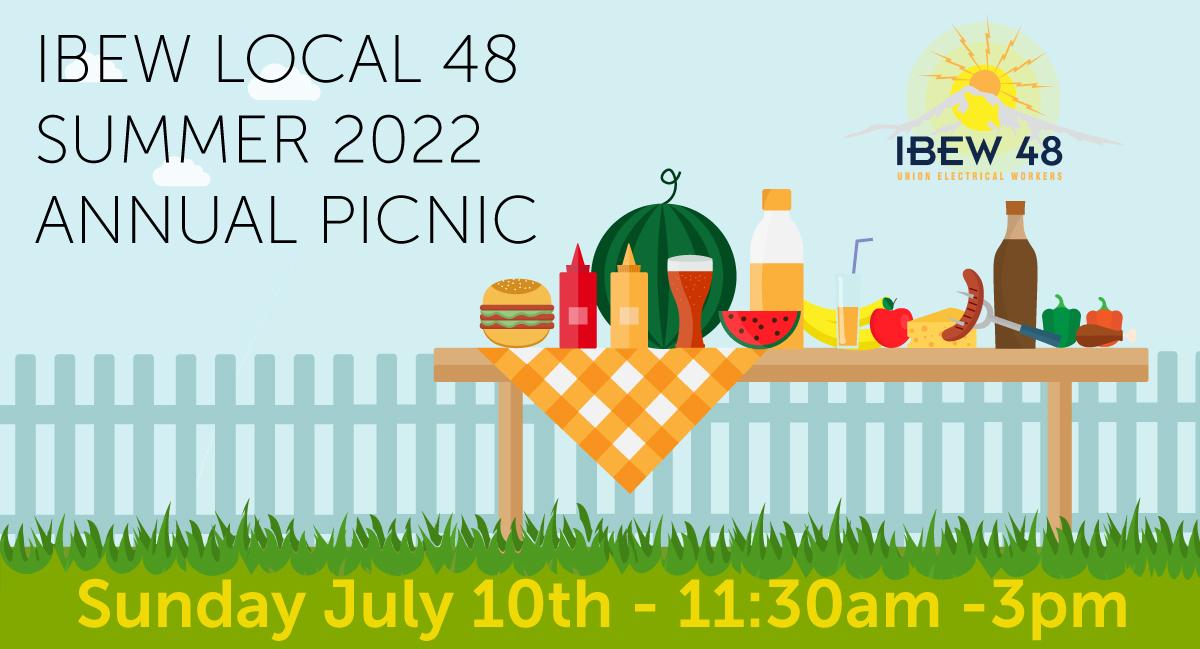 Volunteers
Thank you to all for signing up to volunteer for this year's Annual Picnic!
It really is going to be a very fun event – one for the record books!
Please see timeline and assignments below. If you have any conflicts, questions or concerns please reach out right away.
You can email or call Tracey at: tracey@ibew48.com / 503-251-8504.
Time Line
8:00am            Arrive for Set-Up – Check-In inside the Hall /Set-Up assignments will be different than event assignments and will be distributed upon arrival as needed
(parking for volunteers will be across Airport Way @ Diamond Line Delivery)
Address: 4610 NE 158th Ave – 97230
10:00am          All Volunteers report to the Hall – quick meeting together and assignment instructions handed out
10:30am          All volunteers to go to their areas and prepare for the crowd

The event does not start until 11:30am however, Members will show up early and we would like to be ready for them
11:30am          Event Starts
3:00pm            Event Ends
*A few important things that you should all be aware of:
1. Parking for Guest will be down 158th – 2 locations next to each other
                                   Pacific Northwest Carpenters Institute: 4222 NE 158th Ave
                                   Pierce Pacific Manufacturing: 4424 NE 158th Ave.
                                   There will be Shuttle Buses for those that do not want to make the walk.
2. Restrooms – we will be using The Hall restrooms & The Training Center's restrooms
3. Bingo will be inside the Hall – starting @ 12:30pm
4. Raffle will begin @ 2:00pm – tickets need to be deposited by 1:30pm
5. 4:20pm will be the final Shuttle departure back to vehicles
Event Assignments
Registration

John  Wilson

Registration

Angie Gross

Registration

Mark Hinkle

Registration

Dan Gardner

Registration

Dave Jacobsen

Registration

Wayne Tanner

Registration

Kevin Eng

Registration

Tonya McNeese

Registration

Eliott Thompson

Registration

Kristielynn Fell

T-Shirts

Curtis Sheppard

T-Shirts

Amanda Swan

T-Shirts

Emily Fera

Watermelon

Bob Carroll

Watermelon

Mike Bridges

Watermelon

Doug Tathwell

Basket Toss Carnival Game

Kat Zimmerman

Basket Toss Carnival Game

Michael Kneeland

Holey Roller Carnival Game

Jenna Bazner

Holey Roller Carnival Game

James Christman

Carnival Game

Kateland Duke

Carnival Game

Stephen Tham

Fish Bowl Toss Carnival Game

Laura Pastore

Fish Bowl Toss Carnival Game

Julianna Pastore

High Striker

Diana Winther

High Striker

Mike Adams

Picnic Game Area

Aaron Barber-Strong

Picnic Game Area

Kapua Barber-Strong

Dunk Tank

All EWMC members

BINGO

Donna Hammond

BINGO

Luke Andres

Carousel Bouncer - Manage Line

Susan Rodway

Mega Obstacle Course - Beginning

Veronica Fletcher

Mega Obstacle Course - End

Teresa Montoya

Ballistic Swing - Assist NEP Staff

Edward Curtis

Super Slide - manage line

Bob Parcharidis

Super Sonic - manage line & help getting in and out

Lillian Bucklin

Super Sonic - manage line & help getting in and out

Alicia Rebitzke

Wizzer - manage line & help getting in and out

Marshall McGrady

Wizzer - manage line & help getting in and out

Dalton Husband

Play-A-Round Golf - help with clubs & balls

Nick White

Play-A-Round Golf - help with clubs & balls

Jeremy Crooks

Rock Wall - manage line

Brandon Bultinck

Zipline - manage line

Kim Cole

Bathroom/Garbage Lead

Clifford Green

Bathroom/Garbage Assistant

Christian Espino

Bathroom/Garbage Assistant

Roni Steiger

Bathroom/Garbage Assistant

Craig Ritchie

Bathroom/Garbage Assistant

Mark Douglas

Bathroom/Garbage Assistant

Robert Mankins

LEAD Parking

Parking/Flagger

WillHodges

Blake Allen

Parking/Flagger

Christopher Laumaker

Parking/Flagger

Nick Mitchell

Floater/Breaker

Alex Clark

Floater/Breaker

Victor Velikoretskikh

Floater/Breaker

Michael Collins

Floater/Breaker

Ellen Wayman-Smith

Floater/Breaker

Tiffany Powell

Floater/Breaker

Chelsie Read

Floater/Breaker

Ed Drapeau

Sodas/Bottled Water

Sal Markan

Sodas/Bottled Water

Conner Tolvstad

Sodas/Bottled Water

Colyn Chamberlin

Sodas/Bottled Water

DeVante Flores